North Carolina's digital divide between urban and rural communities is increasing dangerously in a time when high quality Internet access is more important than ever. Rural and urban areas of North Carolina are essentially living in different realities, based on the tides of private network investment where rural communities are severely disadvantaged. The state has relied too much on the telecom giants like AT&T and CenturyLink that have little interest in rural regions.
The state perversely discourages investment from local governments and cooperatives. For instance, electric co-ops face barriers in seeking federal financing for fiber optic projects. State law is literally requiring the city of Wilson to disconnect its customers in the town of Pinetops, leaving them without basic broadband access. This decision in particular literally took the high-speed, affordable Internet access out of the hands of North Carolina's rural citizens.
The lengths to which North Carolina has gone to limit Internet access to their citizens is truly staggering. Both a 1999 law limiting electric cooperatives' access to capital for telecommunications and a 2011 law limiting local governments' ability to build Internet networks greatly undermine the ability of North Carolinians to increase competition to the powerful cable and DSL incumbent providers. 
In the face of this reality, the Governor McCrory's Broadband Infrastructure Office recommended a "solution" that boils down to relying on cable and telephone monopolies' benevolence. What this entire situation comes down to is a fundamental disadvantage for North Carolina's rural residents because their state will not allow them to solve their own problems locally even when the private sector abandons them.
"It's not as if these communities have a choice as to what they're able to do to improve their Internet service," says report co-author Christopher Mitchell, director of the Community Broadband Networks initiative at the Institute for Local Self-Reliance. "There's a demonstrated need for high-quality Internet service in rural North Carolina, but the state literally refuses to let people help themselves."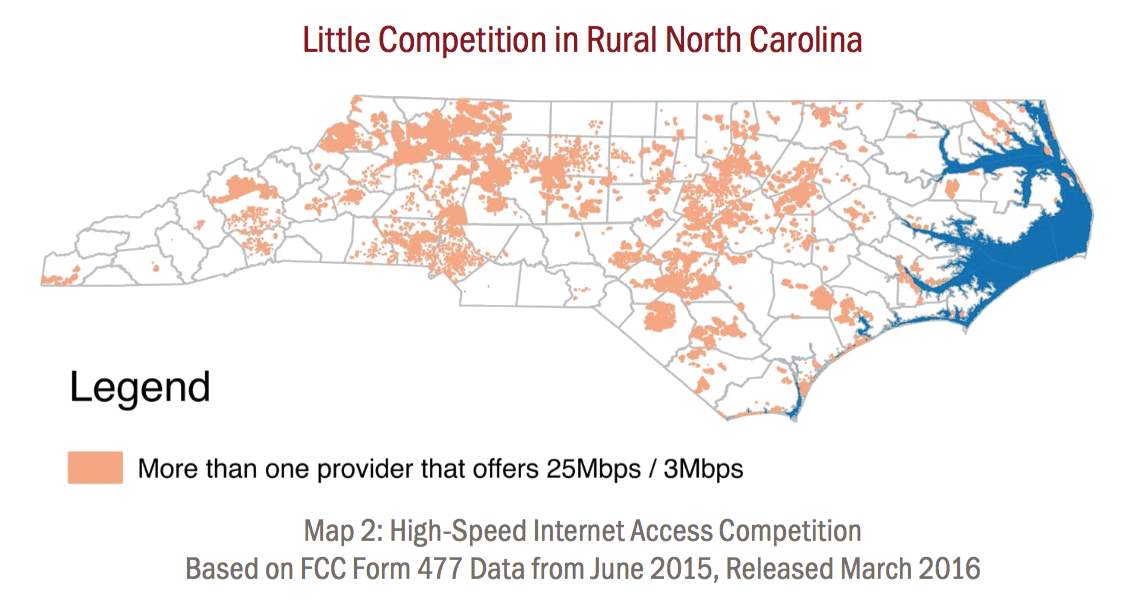 Read ongoing stories about these networks at ILSR's site devoted to Community Broadband Networks. You can also subscribe to a once-per-week email with stories about community broadband networks.
From The Report:
Despite significant tax subsidies from the state and federal government, North Carolina's private providers are building their fiber-optic networks only in certain metro areas and none in rural regions.
Only 12 percent of North Carolina's rural population has a choice for their broadband access, the rest are stuck with only one option and no control over their Internet prospects.
All of North Carolina's telephone cooperatives are investing in fiber for members in their service territory, some have entirely replaced their copper lines with fiber-optic. 
While North Carolina has 26 electric cooperatives capable of bringing fiber-to-the-home to rural residents, a 1999 state law (N.C. Gen. Stat § 117-18.1) limits the co-ops' access to capital for telecommunications projects.